Star Air now connects Nagpur and Hyderabad to Ajmer (Kishangarh)
Star Air now connects Nagpur and Hyderabad to Ajmer (Kishangarh)/ Flight Commencement to Ajmer (Kishangarh) under Govt. of India's RCS-UDAN scheme/ Direct Flights to Ajmer on the Embraer E175
[Bengaluru, 19th September] — Star Air, India's leading regional airline, is thrilled to announce the expansion of its flight network with the introduction of a new route connecting Nagpur and Hyderabad to Ajmer (Kishangarh). Starting from 30th September, Star Air will operate non-stop flights on its modern Embraer E175 aircraft, providing travelers with convenient and comfortable access to the enchanting city of Ajmer (Kishangarh). These new routes, part of 40 routes awarded to Star Air under the Govt. of India's RCS-UDAN scheme, will provide convenient and seamless travel options for passengers visiting the beautiful cities of Ajmer & Pushkar.
With the introduction of these new flights, Star Air aims to enhance connectivity and cater to the growing demand for travel to Ajmer Sharif and Pushkar temples. The airline recognizes the significance of these spiritual destinations and is committed to providing a comfortable and hassle-free travel experience for pilgrims and tourists alike. Star Air is also the first airline to offer a business class service between Nagpur-Kishangarh-Nagpur, Hyderabad-Kishangarh-Hyderabad and Hyderabad-Nagpur-Hyderabad. This would also be the first time an Embraer E175 lands in Kishangarh. The jet aircraft covers the distance between Hyderabad & Nagpur in 1 hour 15 minutes and Nagpur & Hyderabad in 1 hour 30 minutes.
This exciting new route is a testament to Star Air's commitment to enhancing connectivity across India and providing passengers with seamless travel options. Kishangarh, also known as the moonland of Rajasthan is known for its rich cultural heritage and breathtaking beauty and is now set to become more accessible than ever before.
"To celebrate the launch of this new route, Star Air is offering special promotional fares and exclusive travel packages for passengers traveling to these destinations. For more information and to book your tickets," visit the official Star Air website at www.starair.in or contact our 24/7 customer support at +91 22 50799555.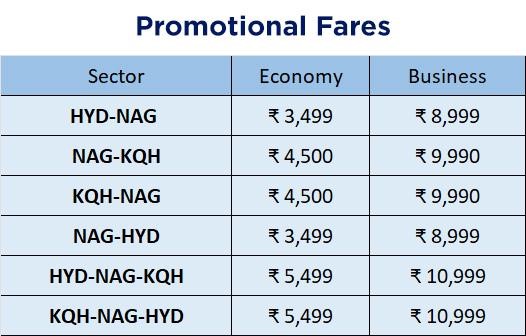 Key Highlights of the New Route:
* Modern Fleet: Passengers can enjoy a comfortable and safe journey on board Star Air's state-of-the-art Embraer E175 aircraft, known for their efficiency and passenger-friendly amenities.

* Business Class Service: Star Air is the first airline to bring a Business class service to Ajmer (Kishangarh). With Best-in-class seats with 36" seat pitch in a 1-2 arrangement, 20kg Baggage allowance, Priority Check-in and boarding, Gourmet meals, priority baggage handling, Star Air business class offers a service that is surely going to leave our passengers with happy memories and a broad smile on their faces.

* Convenient Timings: Star Air has carefully scheduled its flights to provide passengers with convenient departure and arrival times, ensuring a hassle-free travel experience.

* Kishangarh's Charm: Kishangarh, often referred to as the "Marble City of India," is renowned for its stunning architecture, historic forts, and vibrant culture. Whether you're visiting for business or leisure, Kishangarh has something to offer everyone.

Mr. Sanjay Ghodawat, Chairman of Star Air, expressed his excitement about the new route, saying, "At Star Air, we are dedicated to connecting people to the places that matter most to them. We are thrilled to introduce this new route, providing more options for travelers to explore the incredible cities of Ajmer and Pushkar. With our commitment to safety, comfort, and exceptional service, passengers can expect a memorable journey with us."
Star Air looks forward to welcoming passengers on board its flights from Nagpur and Hyderabad to Ajmer (Kishangarh), and continues to be at the forefront of connecting India's diverse destinations.