Star Air Expands Its Wings: New Flights Connect Ajmer and Hyderabad to Pune
Star Air, one of India's leading regional airlines, is thrilled to announce the launch of new flight routes connecting Ajmer (Kishangarh) & Hyderabad to Pune, further enhancing its commitment to providing convenient and comfortable travel options. Additionally, Star Air is proud to introduce Business Class service on these routes, catering to the discerning needs of our passengers.
The new flight routes will provide travelers in Ajmer (Kishangarh) and Hyderabad with enhanced connectivity to Pune. The route has been strategically selected to meet the growing demand for seamless and efficient air travel between Rajasthan, Telangana and Maharashtra.
The routes will be operated by our new state-of-the-art Embraer E175 aircraft. It is an aircraft that has truly revolutionized regional aviation in India with a 2-class configuration featuring 12 luxurious business class seats and 64 best in class economy seats.
The introduction of Business Class service on these routes is aimed at providing an enhanced travel experience for our valued passengers. Business Class travelers can now enjoy a host of premium amenities, including priority check-in, Priority boarding, Priority Luggage handling, Wide and comfortable seats with extra legroom, delectable in-flight dining options, and dedicated cabin crew for an unparalleled journey.
Mr. Shrenik Ghodawat, Managing Director of Star Air, expressed his excitement about the new flight routes and Business Class service, stating, "We are dedicated to improving air connectivity within India and enhancing the travel experience for our passengers. These new routes and the introduction of Business Class service are significant steps in that direction. We look forward to serving our passengers with the utmost care and comfort."
Bookings for these new routes and Business Class service are now open and can be made through the Star Air website (www.starair.in), Customer Care (+91 22 50799555) and authorized travel agents. Passengers are encouraged to take advantage of the convenient schedules and premium services on offer for a seamless and enjoyable travel experience.
Please find below the full schedule of the flights:-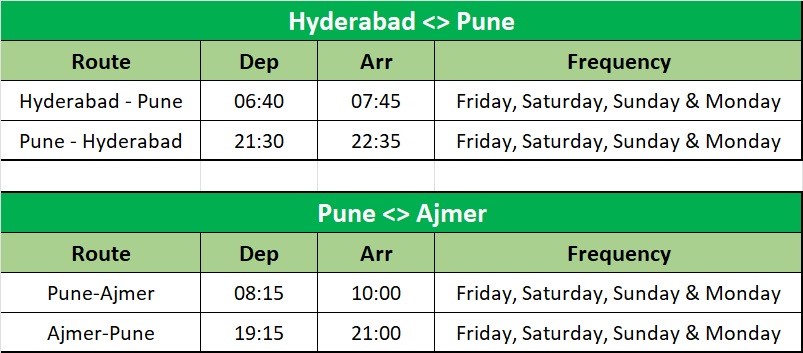 About Star Air: Star Air is a prominent regional airline in India, committed to connecting Real India and providing exceptional travel experiences. With a focus on customer satisfaction, punctuality, and reliability, they have established themselves as a trusted choice for travelers across the country. Operating on 18 destinations, they operate a modern fleet and offer a wide range of services to ensure a comfortable and enjoyable journey for our passengers.
About Sanjay Ghodawat Group: Sanjay Ghodawat Group (SGG) is a prominent Indian business conglomerate with a presence in various high-value business verticals. Aviation, Consumer Products, Education, Energy, Mining, Realty, Retail, and Textile are some of its key business domains. Since its founding in 1993, SGG has witnessed impressive growth under the splendid stewardship of its Founder and Chairman, Mr. Sanjay Ghodawat. It has a strong base of millions of customers globally, an employee strength of over 10,000, and a student base of over 16,000. SGG is moving ahead with great vigor and bringing significant changes in people's lives with its wide range of high-quality products and services. For more information, please visit www.ghodawat.com